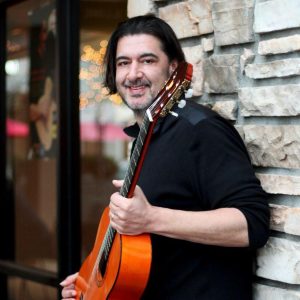 Hire Alex For Your Next Event.
There are many options to the types of performances that I can perform for you and your event. Please fill in the form below for more information on booking me solo or me and my friends to play your next event. Learn more about the many different types of arrangements that I can assemble for live events below.
Learn about the different styles and arrangements of live events.
Raleigh Jewis music Ensemble
Rooted in the Klezmer/Jewish tradition, and enriched by Latin, Jazz and Gypsy cultures, it takes Jewish music to completely new level.
Learn More
Alex & Mutual Friends
A unique fusion of Spanish Guitar with percussion and piano colors. Their unique art, controversially rooted in a mix of the Classical academic tradition of following written charts, and collaborative spontaneous improvisations, discovers a fresh approach.
Learn More
Check out hand-picked supplies in Alex's Guitar Shop.