Raleigh Jewish Music Ensemble
Rooted in the Klezmer/Jewish tradition, and enriched by Latin, Jazz and Gypsy cultures, it takes Jewish music to completely new level.
Introducing The Raleigh Jewish Music Ensemble
RALEIGH JEWISH MUSIC ENSEMBLE
Rooted in the Klezmer/Jewish tradition, and enriched by Latin, Jazz and Gypsy cultures, it takes Jewish music to completely new level.
It is hard to imagine a Jewish event without good Jewish music! Introducing RALEIGH JEWISH MUSIC ENSEMBLE , a musical gem with a unique sound that wins the hearts of everyone. Their music is romantic, beautiful, lyrical, fascinating…and always captivating. It will make your event very special and unforgettable!
Their art, rooted in the Klezmer/Jewish tradition, and enriched by Latin, Jazz and Gypsy cultures, takes Jewish music to completely new level. It will enchant audiences with intricate improvisations, spell binding rhythms, and beautiful melodies. Their music is a virtuoso mix of acoustic guitar and clarinet, with influences of Paco de Lucia, Astor Piazzolla, Pat Metheny and Giora Feidman.
Their music appeals to a wide audience – fans of tango, flamenco and samba will love their music for its' range of emotions and temperament, and jazz aficionados will admire the mastery of their solos. World and folk music lovers will get plenty of authentic melodies, and everyone will enjoy the great energy, and may even recognize some of the tunes!
Want to Hire Alex & Fred or have Questions
If you would like to hire Alex & Fred or if you have questions please fill in the form below and click send. You can also reach Alex by phone at +1.919.413.3179
Check out some of Alex's past performances
See more videos on my YouTube Channel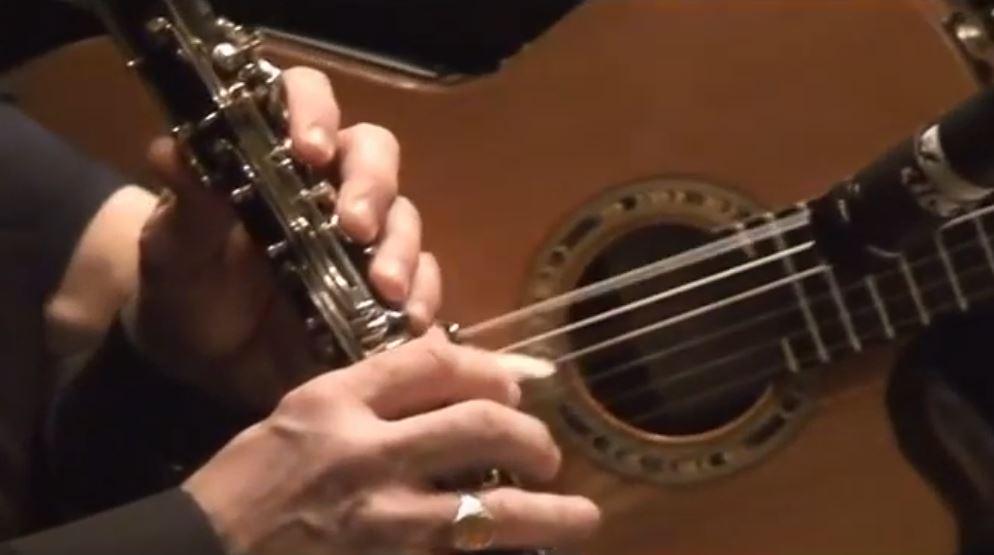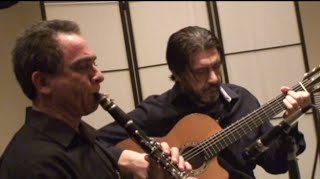 Members of the band:

–       – Fred Jacobowitz (clarinet/saxophone) – Julliard graduate, one of the most prominent American Klezmer musicians
Fred Jacobowitz received his Bachelors and Masters degrees from the Juilliard School of Music. He made his New York Debut at Carnegie Recital Hall as winner of the 1984 Artists International Competition. He was a featured soloist on radio stations WBAI and WQXR in New York City, with the Goldman Band, and in recital throughout the Metropolitan New York area. As a chamber musician, he has participated in the Marlboro Music Festival and played in the Verrazano Winds Woodwind Quintet in Brooklyn, New York. Mr. Jacobowitz was Principal Clarinetist in the Annapolis (Maryland) Symphony Orchestra from 1989-2002. He is equally at home in the worlds of Classical, Jazz and Folk, having performed and recorded with his Kol Haruach Klezmer Band <www.kolharuach.com> and his duo, Ebony and Ivory . He has performed as recitalist and soloist throughout the US and Canada and in Panama. Mr. Jacobowitz now resides in Raleigh, NC, where he teaches and freelances, and he can often be heard playing concerts with his wife, North Carolina Symphony Principal 'Cellist Bonnie Thron.
–         Alex Gordez (six-string acoustic-classical guitar, composer)

Alex Gordez is a virtuoso guitarist. He specializes in Classical, Jazz and World Music, with over 30 years of experience in music education, theater, live performance and studio environments. He has played countless festivals and venues across the country and around the world. Alex's music style combines contemporary Argentinean Tangos, Modern Jazz, Brazilian music and Flamenco, incorporating his Jewish roots and his favorite Romany (Gypsy) styles. Alex started playing classical guitar at age of eleven and graduated from Glier Music College in Kiev, Ukraine, as a jazz performer (guitar), arranger and composer. In 1988 he debuted at the International Jazz Festival in Ukraine and then started touring – performing jazz, and World music. At this time, he started thinking about how to infuse world music with a jazz vocabulary. In 1991 Alex moved to Israel, and became a part of the Gesher Theater Company, where he explored the theatrical application of his original works. Four years later Alex moved to the United States, and currently lives in Raleigh, North Carolina with his family.
From 2005-2013 Alex was co-director of Via Romen, a world-class ensemble that has impressed audiences both here in the US, Israel, Singapore and Canada, playing alongside the revered Russian seven-string guitarist Vadim Kolpakov, and violinist Arkady Gips ( both whom traveled and performed with Madonna on her past world tour). Recently, Alex was chosen to represent Kremona Guitars at the exclusive National Association of Music Merchants (NAMM), a show which is regarded as the premier trade-show of the industry. His latest project "Alex and Mutual Friends" features Alex as a band leader and composer, performing modern jazz/flamenco fusion originals, further pushing the boundaries of classical guitar. Passionate about sharing his love of music, Alex also teaches Classical, Jazz and Spanish guitar and music theory at his private home studio in the heart of downtown Raleigh, NC.
* Percussionist, violinist, accordion player and other musicians to compliment the Duo are available upon requests.
The Raleigh Jewish Music Ensemble is a great choice for many settings including: small intimate clubs, private parties, festivals, college programs, and wedding receptions.
Check out hand-picked supplies in Alex's Guitar Shop.
We look forward to playing at your event