To comply with all state and local regulations and for just an abundance of caution all lessons will be conducted via the internet using tools such as Skype for video conferencing.
From time to time you will need various supplies to help facilitate your guitar lessons. Visit the guitar lesson resource center to download and purchase lesson supplies.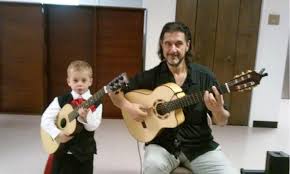 If you are a current student, you can schedule your appointments here. Follow the directions below to schedule an appointment, once you submit the form your appointment will be PENDING apon approvel. You will recieve an email when you submit the appointment and another email once Alex approves or declines the appointment. If you have scheduling quesiton please email Alex at AlexGordezGuitar@gmail.com or call him at 919-413-3179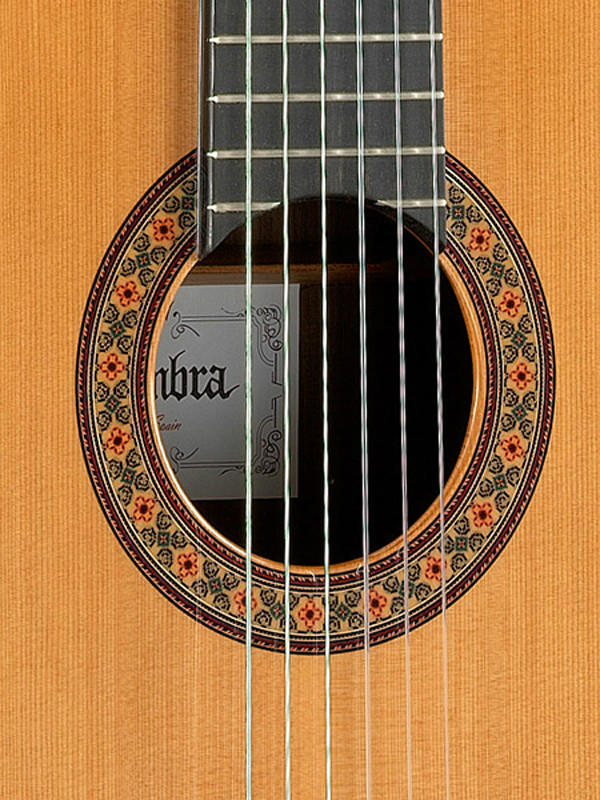 Welcome to my studio!
  I'm available to teach in the following locations-

North Raleigh – Lake Lynn

Via Skype (during the CoVID19 pandemic)

I offer private customized guitar lessons tailored to your individual needs and abilities. Whether you are just a beginner, or an advanced player, you will learn to think about the guitar and music in new and exciting ways

I have over twenty 

years of experience as a gu

itar teacher for all ages

.

 

I can teach you serious classical guitar, and also tango, flamenco and gypsy music, which needs great deal of classical training. I will also teach you

 music

 theory and accompaniment

.

 
Learning Tracks for Beginners, Intermediate, and Advanced Students
Classical Guitar

Jazz Guitar and improvisation


Beginners and accompaniment

World music: Tango, Flamenco, Eastern European, Gypsy

Theory, Arrangement and Composition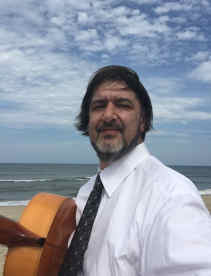 WHAT DO YOU NEED FOR THE FIRST LESSON

 Your guitar: Your guitar may or may not be good enough for the professional studies. I will help you to find the right instrument for your level and budget.

 Your books: Depends on your level we will decide what book(s) are appropriate for you.

 Electronic media: I would encourage you to bring any type of recording device (iPad, iPhone or anything else) to record parts of your lesson. Also there are a lot of information can be downloaded from the internet, so this is one more reason to have the devices available.

 I would also require to have your home place ready for practice. Its not a lot, just a right no-arms chair, guitar stand, tuner, music stand and in some cases footrest for guitar. Follow the links to buy these on Amazon.com
ATTENDANCE POLICY and CANCELLATIONS
    Please be courteous of fellow students by being on time for your lesson.  I may have a student directly following you,   and will not be able to make up for lost time. 


   If you must cancel, please call me at least 24 hours before your lesson and leave a message. Make-ups for canceled lessons are scheduled upon availability. If you cancel on the day of your lesson, you could forfeit that lesson. Genuine emergencies will receive special consideration, of course. I may occasionally have to cancel a lesson. I will do my best to give 24 hours notice, and a credit or make-up lesson will be offered.



    Excused absences will be rescheduled, however… NOTE: Excused absences must be made up in the current month or be forfeited.


    After completion of the minimum three month contract, if you should decide to stop taking lessons, a full month's advance notice is required. If you decide, for an example, to discontinue lessons for the summer, effective June, you would be required to provide notice the first week in May. Failure to do so does not excuse financial responsible for the month of absence

.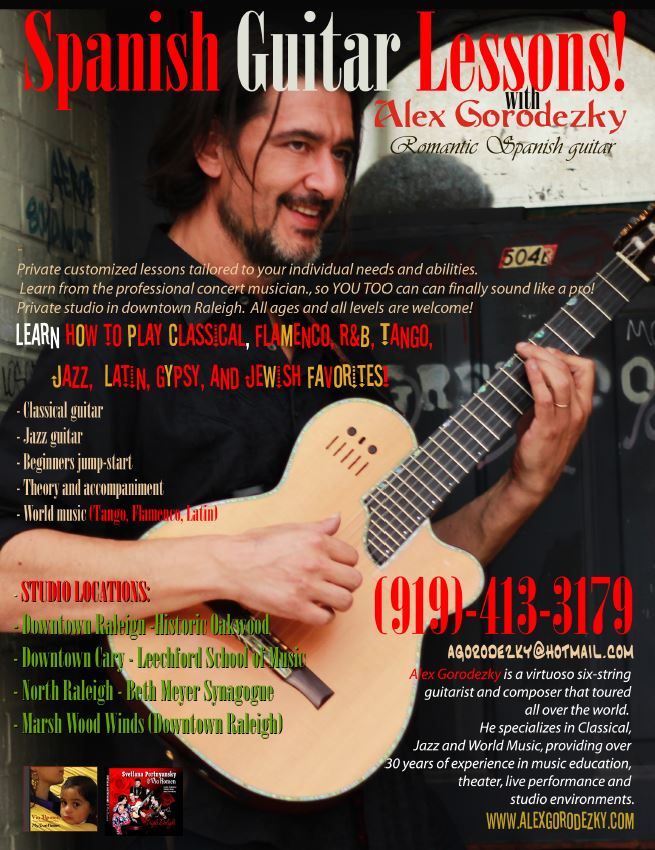 PAYMENT POLICY
  Payment is due at the beginning of each month for all lessons in that month
  Payments can be made by Venmo, cash or checks.
RATES:
 One-time Consultation Rate:      
– 60 Minutes/ $50.00
  Advanced/Professional Lessons:
– 60 Minutes/ $50.00
– 30 Minutes/ $30.00
Submit your name and email below along with any questions you may have in the message box. Or you can call us at 919.413.3179
Download Alex's Guitar Lesson Flyer
Check out hand-picked supplies in Alex's Guitar Shop.
I look forward to seeing you in Class!!!